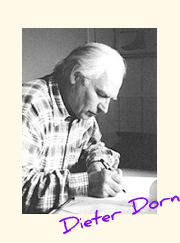 After nearly 40 years of success in Europe, Dorn Method is now introduced to Hong Kong and the Greater China region.

Dorn Method is a German Spinal Management Methodology developed by Dieter Dorn. It is a gentle & effective manual therapy and a self-help method to correct misalignments in the spine and other joints of the body.

This website will respect the wish of Dieter Dorn that the Dorn Method should become a kind of Folk Medicine, and always be available to everybody.

Practical:

Headache, neck pain, back pain and scoliosis are common health problems of modern living. Dorn Method is a practical and safe methodology to correct spinal misalignment and other joint problems, to relief the cause of the pain and discomfort.

Convenient:

Dorn Method has no space and time constraint, it is simple and quick to apply.

Effective for health and wellness enhancement:

Dorn Method helps to restore healthy body functions, including proper tissue / organ functions and body immunity, enhance health and wellness effectively.

Suitable for all age groups:

Dorn Method is gentle and non-invasive, with no medication or needle being required. It is suitable for all age groups, including young children and elderly.

Self sufficient with effective Spinal Self Help techniques:

Dorn Method Self Help techniques are simple and safe, to self adjust the misalignment quickly with comfort and no pain, and relief the nerve impingement and the source of the pain and discomfort. It requires only 3-5 minutes daily for a balanced spine and optimal health and wellness.

Economical:

Dorn Method can also have an important preventive effect and help to keep your body healthy for the future and avoid some doctor visits and medical costs.
NOTE: Never use the DORN METHOD on other people without proper training conducted by an authorized DORN METHOD Seminar Lecturer. Although the Dorn Method and the Self Help Exercises are very safe when done correctly, there can be No Liability on the Authors Side for any consequences resulting from the application of the Method and Exercises. In any case, it is advised to consult your doctor first because health problems and back pains may have other causes than misaligned joints and vertebrae and should be checked by a trained medical doctor. The Dorn Method has certain Limitations that must be cleared prior to any treatment!
Remember: The DORN METHOD is NO Replacement for any other form of medical or non-medical treatment but it can be a very effective supplement!